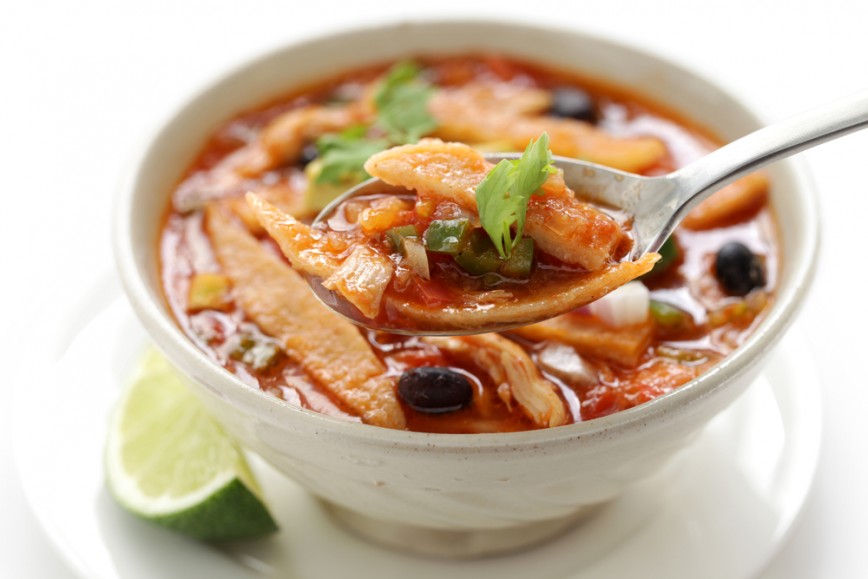 Hello all my fellow food lovers! Thanks for visiting the Cooking Corner with Ms. B. I hope that I can add some flair to your menu's along with some fun ideas for your parties and get togethers. I love being in the kitchen and preparing food & drink for all our friends. We hope you will join us!
The holidays are upon us and as colder temperatures become the norm our eating habits seem to change. I currently live in the Phoenix area, and don't experience the typical change of seasons; however the temperature has dropped below 100. So for me, with cooler weather my thoughts turn to soup. What says welcome home and relax more than the aromatic smell of a simmering pot of soup? Since moving to the Southwest, Tortilla Soup is one of my family's favorites.
I know this is short but I have an excuse & promise more. I am on the way to California for the weekend with my friend to shop, eat & play! Check back next week.
8-10 corn tortillas (6" in diameter)*
Corn Oil
3 garlic cloves
1 medium onion, chopped
6 cups chicken stock (may substitute
3 – 14 oz cans chicken broth)
1 16 oz can tomatoes, diced
1 6 oz can tomato paste 1 minced jalapeno, seeded
1 cup cooked, shredded chicken
1 14 oz can black beans
1 -2 ripe avocados
1 cup shredded Cheddar and Jack cheese
Chopped cilantro Lime wedges * In a hurry, these are now available already prepared in many stores.
Directions:
Cut 5-7 tortillas in half and then cut into thin strips. Heat ½" of oil in a skillet and when hot add tortilla strips a few at a time and fry. Turn at least once and fry about 3 minutes or until golden brown. Remove from oil with a slotted spoon and drain on paper towels. Repeat with remaining tortilla strips.
In a 6 quart stockpot sauté garlic and onion until onions caramelize. This will take about 20 minutes, stir occasionally. Add tomatoes, tomato paste. 3 coarsely chopped corn tortillas, jalapeno and 2 cups of the chicken stock. Bring to a simmer and cook for about 15 minutes. Remove from heat. Place contents of pan in a blender and puree. Return puree to pot. Add remaining stock and chicken, simmer for an additional 15 minutes. Add beans and heat thoroughly.
To serve place a few corn strips in each bowl. Fill bowl ¾ full with soup. Top with cheese, avocado, cilantro and corn strips. Pass limes for squeezing.