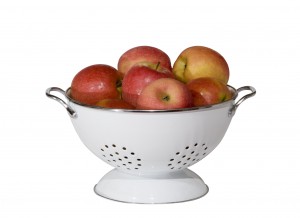 The fall season brings thoughts of cooler weather, falling leaves and perhaps apple season. Autumn is synonymous with apple harvesting. Apples are grown in all 50 states, so no matter where you have moved, apple picking should be within your reach. Apple picking is a great family activity that allows us to be outdoors and then actually experience the fruits of our labors. It's a wonderful way to spend the day and when you return home, you won't be empty handed. Apples are very nutritious. They are great eaten alone as well as a very versatile ingredient. Never peel your apples. Two-thirds of the fiber and lots of antioxidants are found in the peel. One medium apple is about 80 calories and contains no fat or sodium.

Here are two of my favorite apple salad recipes. The first I have enjoyed for years. The second is made with the now popular ingredient; pomegranate seeds. When preparing the salads the dressing may be made ahead of time and refrigerated. However for the salad itself; it is best to prepare when you are ready to serve, to avoid the apples turning brown.
Did you know:
-25 percent of an apple's volume is air. That is why they float.
-China is the leading producer of apples, the U.S. is second.
-Humans have been eating apples since at least 6500 B.C.
-Apples are a member of the rose family.
Apple Blue Cheese Salad
Dressing
Combine the following in a glass jar and shake until sugar dissolves.
-3/4 c olive oil
-1/3 c apple cider vinegar
-3 T sugar
-1 clove garlic, pressed
-1/2 t salt
-1/8 t black pepper
Salad
Toss together:
-8 c baby lettuce blend
-4 Granny Smith apples, diced and unpeeled
-4 oz. crumbled blue cheese
-1 c pecans, toasted
-1/2 c dried cranberries
Pomegranate Apple Salad
Dressing
Combine the following in a food processor or blender:
-1/3 c vinegar
-3/4 c sugar
-1 t salt
-1 t dry mustard
-1/2 small onion, quartered
-1 c Canola oil
Pour into a salad bottle, add poppy seeds and shake well.
-Add 1 1/2 T poppy seeds
Salad
Toss together:
-1 Romaine lettuce, chopped
-1 pomegranate, seeded
-1 green apple, chopped
by Becky Wallace