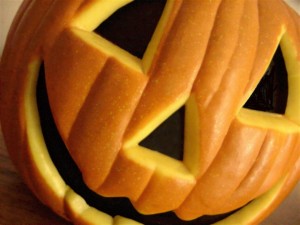 Here's the great thing about being an uncle: you are practically EXPECTED to break the rules. Case in point: my six year old neice Abby has been at my apartment for barely more than an hour, but already I've handed her a sharp knife, helped her make an absolute mess in the dining room, and am about to go show her a scary movie.
My cousin and her husband are off to a grownups-only Halloween party tonight. So the second they left, Abby and I marched to the grocery store down the street to pick out pumpkins. I picked out a symmetrical, deep orange pumpkin with a perfect stem sticking out of the top. Abby picked out a lumpy monstrosity that weighed about a thousand pounds. I had to carry both of them home.

We spread out newspapers on the floor, and then I showed her how to cut at an angle so the top didn't fall in. And she thought the pumpkin guts were the grossest thing ever….for about two seconds. By the end, she had both arms jammed in to her armpits and was pulling up all the stringy last bits of the interior and plopping them down on the pile. I've never been more proud of my niece.
I carved a pirate pumpkin, complete with eyepatch. Abby carved a…..a dog I'm told. It was rather abstract. And then it was almost time to watch a movie. But not without a snack.
No popcorn for us. Cause we had everything we needed, scattered on the newspaper in the dining room. It just about blew Abby's mind when we collected the seeds and put them on the baking sheet. We were going to eat that? She was incredulous.
We popped them in the oven, cleaned up, and watched It's the Great Pumpkin, Charlie Brown. Which was just enough time to let the seeds get crispy and delicious. They got the thumbs up from Abby too, and were the perfect snack to enjoy while watching Nightmare Before Christmas.
Ingredients
2 cups rinsed and dried pumpkin seeds
1 1/2 T melted butter
Pinch of salt
Quick shake of garlic powder
Quick shake of cayenne (Abby and I omitted this)
2 t Worcestershire sauce
Directions
Mix all ingredients in a bowl and spread on a baking sheet.
Bake at 275 degrees for about an hour.
Let cool for 5-10 minutes, then enjoy!